LISBON, PORTUGAL. A long weekend is just enough to get a glimpse of Lisbon. Many visitors don't set out to immerse themselves in a world of graffiti, but once you start strolling the streets of Lisbon's old town, street art abounds.
In fact, Lisbon is one of the few cities where spraying is supported by the government. In 2008, the City Hall joined forces with well-known street artists, providing them a chance to paint several story buildings in downtown Lisbon.
Here is a photographic narrative of the spray paintings you, too, can see on your next visit to the Portuguese capital.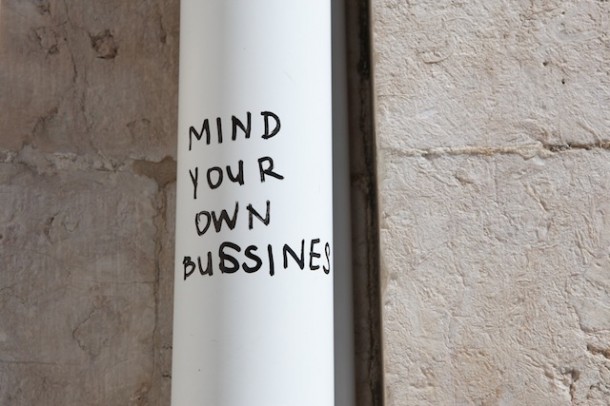 The Portuguese have never been known for their English skills, and misspelled phrases such as "Mind your own bussines" attest to this. In graffiti, on the other hand, they excel, as you will see in the following shots.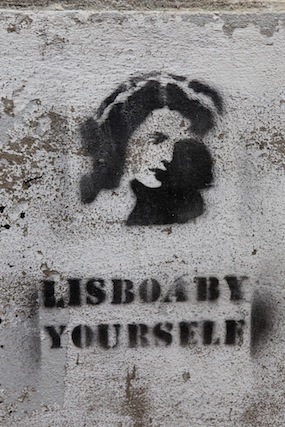 The slogan "Lisboa by yourself" doesn't refer to solo travel in the Portuguese capital, nor does it allude to the lonesome pursuit some graffiti sprayers might experience here. "Lisboa by yourself" is a card that gets you discounts at bars, restaurants, clubs, cafés and cultural associations. The price for the card is 5 Euros, and you can find out more at the official website.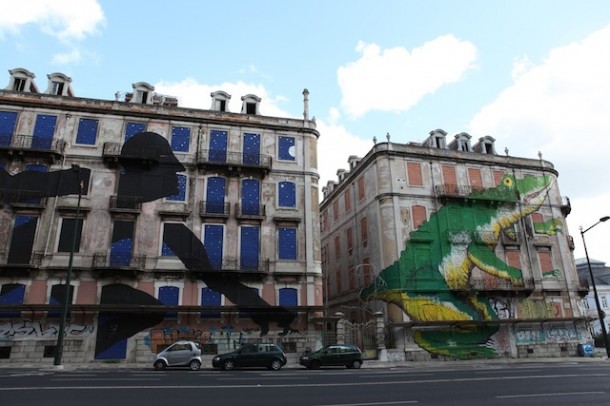 In fact, graffiti sprayers aren't alone in Lisbon. In 2008, The Brazilian brothers Los Gemelos were part of those that joined forced with the City Hall, which allowed them to paint the buildings on the Fontes Pereira de Melo avenue in downtown Lisbon. Here, you see their black figure aiming a catapult and the blue windows surrounding it. Alongside, an oversize crouching crocodile by Ericailane.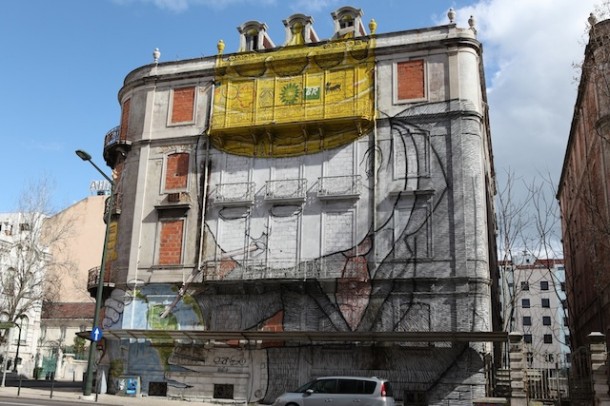 Right beside the drawing of Los Gemelos is that of Italian artist Blu, who sprayed a crowned man sucking on a globe through a straw. The painting was sprayed before the outbreak of the economic crisis in Portugal, but its sociopolitical commentary continues to be valid.
Also part of the Fontes Pereira de Melo series, this painting on the east corner was sprayed by street artist Lucy McLauchlan.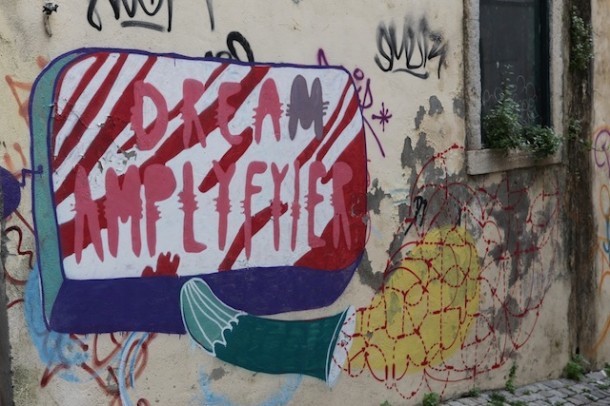 The Fontes Pereira de Melo buildings are spectacular, but there numerous other examples of stunning street art throughout Lisbon. Here, an example on the Travessa do Chão da Feira, near Lisbon's only open-air urinal and on the way up to São Jorge Castle.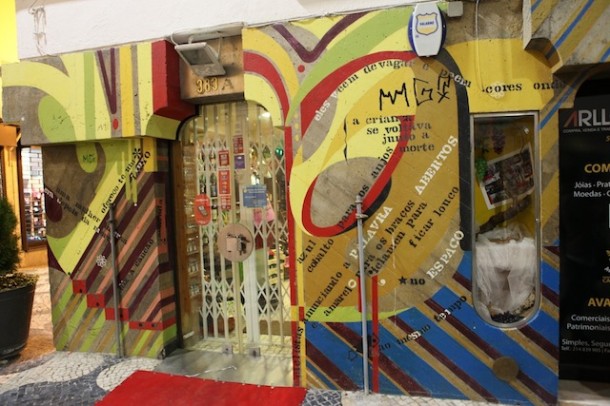 If you're in Cascais on a day trip, you'll find that storefronts are part of the street art story here, too. Colors, words and phrases all come together to decorate what would otherwise have been just another plain store entrance.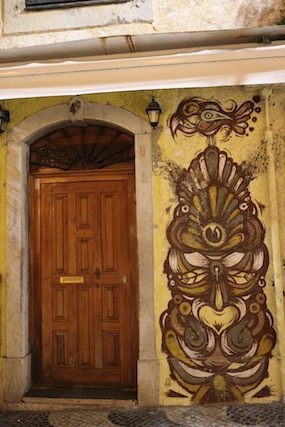 Entrances to apartment buildings aren't immune either, such as this residence, also in Cascais. The evening light gives the graffiti an almost elegant quality. Below, you'll see the typical black and white tiled floors that don the roads in many plazas and streets of Portugal.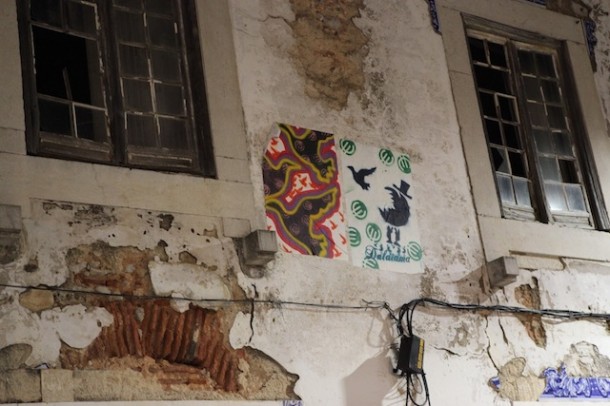 Some sprayers look up to the Dalai Lama and mention him on their paintings, such as this one, where his name appears alongside numerous doves. The graffiti scene in Portugal is peaceful, it appears.
Do you have a street art photo to share? No matter whether in Lisbon or elsewhere, GAPBRAVE is now accepting photo submissions of street art worldwide. Register at rgnn.org/register and upload your own!