It is a cold winter morning around 6 am on Wednesday February 3 in the 18th arrondissement of the French capital, and the police is getting ready to demolish the makeshift shelters made of plastic and metal sheets home to about 300 Roma families.
The camp sprung up in June 2015 on an old railway track called "la Petite Ceinture" property of the French state rail company SNCF, which started legal proceedings in the previous months to have the shacks cleared out.
Recent visits by the authorities exposed a reality of precarious hygienic conditions and a high risk of fire hazards. Camp members had been alerted in advance about the evacuation and many of them left their houses before the operation started, in fact only 80 people were still found on site.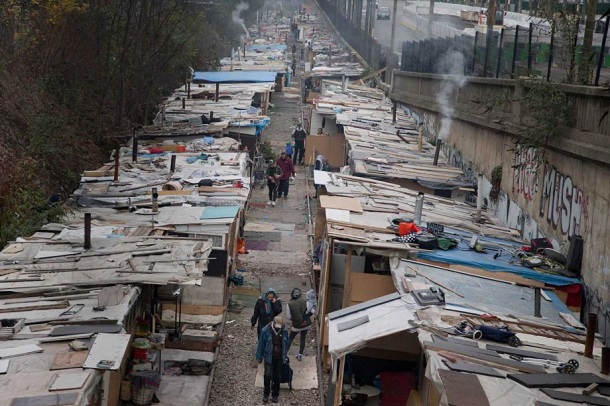 Those who remained were loaded onto buses and taken to temporary accommodations, but the French government failed to provide a long-term solution to the problem. Local NGOs working on the ground such as Amnesty International criticized authorities and warned that those evicted would likely become homeless in midwinter or build a new camp somewhere else.
Council of Europe Secretary General Thorbjørn Jagland reminded France that the Roma are legal European citizens and therefore they cannot be deported or stripped of their rights, adding that.
Forced evictions can prove counter-productive as they often disrupt the schooling of Roma children and hamper the efforts of those who provide basic healthcare to Roma communities, for example through vaccination campaigns.
The country has had a history of being particularly harsh on the Roma population, dismantling the homes of about 11 000 individuals last year, including one of their oldest camps situated in La Corneuve, on the outskirts of Paris.
Following this incident in September 2015, the UN High Commissioner for Human Rights Zeid Ra'ad Al Hussein put France on blast for its repeated forced evictions of Roma camps.
I urge other States to follow suit, and make a much greater effort to treat the Roma sensitively and fairly, in accordance with international standards. Failure to do so simply exacerbates entrenched popular discrimination against what is already one of Europe's most deprived and marginalized communities.
UPDATE:
The forced eviction of the Roma camp in the 18th arrondissement of Paris was illegal according to a court judgement dated January 27, which allowed the inhabitants to continue living in the area until June 15. The decision was taken in order to facilitate the medical treatment of four cases of tuberculosis by local volunteers and to prevent the virus from spreading.
President of Médecins du monde Françoise Sivignon commented on the event in an open letter.
We are wondering how valuable a court decision actually is to the French administration: it can justify an eviction in case it is considered favourable, but it is completely ignored when it mandates an extension period.
Connect with us on social media via Twitter, Facebook and Instagram. Your opinion matters!