You know it's strange, this atmosphere of dark tranquillity we live in. A shockingly intense four-day security alert following the terrorist attacks in Paris has paralysed the city last week. But Brussels and its residents are recovering fast. Even if we haven't lived under a curfew order, the maximum alert has slowed down everyday life considerably. Unprecedented measures have closed down the capital's subways, schools and main stores, and transformed the city in a huge Magritte's painting where soldiers, harmoured vehicles and machine guns are an integral part of the urban environment.
The metro service is fully restored since a few days, life goes back to normal and people gradually start enjoying the vibrant city life again. In the last weeks, public demonstrations and civil society meetings have been indiscriminately targeted and restricted in the name of security. A decision that has only reinforced people's willingness to take back control over their daily lives and political battles. Following the cancellation of People's Climate March to Paris, authorisations for local related initiatives have been subsequently denied or withdrawn. And Brusseleirs gave a big demonstration of freedom and resistance: they didn't just go back to the térrasses, they decided to bring their children to the Human Chain for Climate and Democracy for which authorisation was denied.
"Sharia in Brussels"
Media attention has focused on Brussels because two Paris terrorists lived here. One of them, Abaoud was shot to death during a raid in Seine-Saint-Denis department in Greater Paris. The other, Abdeslam, escaped the authorities and is presumed to be still alive and hiding somewhere in Europe or beyond. Obviously, Brusseleirs have been under enormous stress for this. Youth radicalisation as a growing phenomenon in Europe, and Belgium in particular is very well known. Hovewer, in the last weeks we've been told an avalanche of things, details, aspects, real-time updates and many of them were useless or simply not true. Perhaps we should hear instead how politics has failed to prevent and combat the resurgence of extremism, or even nurtured it. But we know the traditional media game: one needs to fit the story and keep on feeding it.
So I found myself publicly criticising the way a few tv journalists I know were developing their coverage about terrorism risks and life under alert. Indeed, we've been stressed out more by an incredibly silly media bombing than by the security operations and measures themselves. Molenbeek, a district in Brussels where the two guys grew up, received tremendous media attention. A journalist improvised a night tour in the neighbourhood with an hidden camera, behaving as if he was entering the Cambodian forest in Apocalypse Now. Molenbeek has been described as 'the jihadi haven", "the cradle of jihadism", and Belgium as a "failed state". This made local residents suffer even more. Just a few days before the alert was heightened from level 3 to 4, more than 2500 people gathered in front of Molenbeek's municipal building in solidarity with the victims of terror all over the world.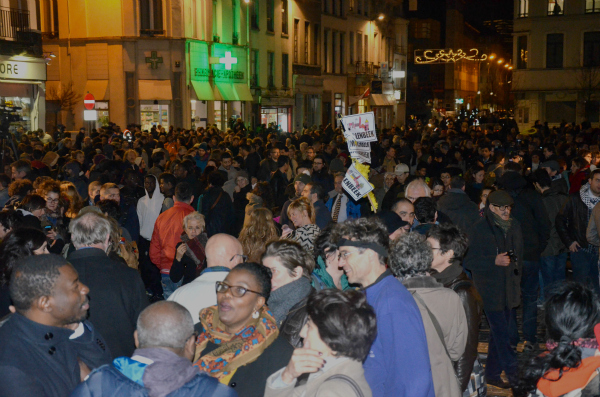 Life is what happens while you're busy counting soldiers and police sirens
The effects of this terrorist media saga spectacularising exceptional  events were stressful for everybody. For those living away from families, perhaps even more. Suddenly re-exposed to the fragility of our lives, we had to cope with increasing fears, worries and mixed feelings about the presence of military on city streets. We tried to unravel the intricate media tangle to get an idea of the situation, while constantly reassuring distant family and friends hit by an incessant flow of shallow and temporary information that no, we were not exposing ourselves to danger when buying food at the supermarket. Many examples of media coverage were schizophrenic attempts to make sense out of non-sense, in a situation where no more than twenty people in different levels of authorities perhaps were aware of what was going on. And even now, the public doesn't know much yet.
During the alert 4, I met a girl at a dinner at a friend' s place who later confessed to us she survived the Paris attacks. She is an artist who travels frequently between Paris and Brussels. She hasn't stopped doing it. I remember her to be visibly shaken, but she didn't allow the events to overwhelm her clear mindedness, nor she embraced the same ridicolous patriotic discourse as many other people did. That night she gave us all an incredible gift of moral strength and resistance without knowing it.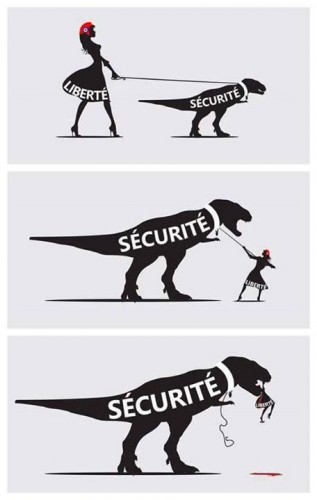 In the last weeks, Brusseleirs had to deal with a press excited to be in a city at war without war, flattered to be named "an auxiliary responsible for order maintenance", mainly gossiping about a capital under shock. The militarisation of public space has not reached France's levels with its état d'urgence, but Brussels residents have already put in question the validity of such a stance where the security discourse is used at the detriment of personal freedoms and civil liberties, while providing no evidence of a real, increased security for all.