It happened. On 22 March Brussels has awakened in terror. Two blasts in Zaventem airport, an explosion in Maelbeek metro station one hour later. The latest provisional toll reported 35 dead and 340 wounded. All those responsible for the attacks have a criminal past. The Brussels terrorists have strong connections with those who perpetrated the attacks in Paris last November.
Stigmatisation, here we go
Again, all the spotlight is on Molenbeek, a popular neighbourhood with an industrial past, where many terrorisms were born or have lived. The majority of its residents have a migrant background.
The first wave of immigration was internal: peasantry and Flemish settled here in the interwar period. Next, Italians: the first bilateral agreement between Belgium and Italy dated 23 June 1946. "Italy pledged to send 2,000 Italians weekly. In exchange, Belgium agreed to send bags of charcoal".
Following the waves of Spanish and Greek workers, workers from Morocco and Turkey came to settle in Molenbeek in the mid-60s. The industry preferred them to Algerians and Tunisians because they would accept worst working conditions and were not used to organize themselves in trade unions.
The "importation" of the Moroccan workforce was completed in 1974. Immigration continued through family reunification. Moroccan population later experienced mass unemployment and remained in the most disadvantaged parts of the neighbourhood, while other migrant communities moved to the modern districts of the municipality.
The dynamics of growing religious fundamentalism
The debate over the influence of fundamentalism emerged in 2005, after Muriel Degaucque died in Baghdad as a suicide bomber. She was a Belgian married to a Moroccan native, converted to Islam.
The following year, Belgo-Moroccan journalist Hind Fraihi went undercover: she spent three months in Molenbeek posing as a student. In her investigative work she described how Molen' was becoming a magnet for Islamist imams and sheiks recruiting terrorist candidates for Afghanistan, Chechnya and Iraq. She witnessed a community closed in on itself, eyes and ears constantly turned towards the situation in the Middle East and Palestine via tv satellites.
The majority of the Belgian nationals who have gone to fight in Syria and Iraq are thought to be of Moroccan descent. But the presence of Moroccan and Turkish workforce is not a factor of radicalization in itself. Rather, analysts point to the the implanting of Saudi Salafist preachers in the country in the '60s, as a result of a deal to get oil contracts. Saudi Arabia was offered to set up a mosque in the capital, and hire Gulf-trained clerics. Observers say their Salafist dogma stood in contrast to the traditional, more progressive  beliefs of the working-class Muslim immigrants.
The Moroccan community comes from mountainous regions and rift valleys, not the desert. They come from the Maliki school of Islam, and are a lot more tolerant and open than the Muslims from other regions like Saudi Arabia. However, many of them were re-Islamified by the Salafist clerics and teachers from the Great Mosque.

George Dallemagne, Belgian member of parliament (CDH, centre-right)
More recently, Belgian independent journalist and writer Michel Collon undertook numerous attempts to focus the attention on a worrying phenomenon: disenfranchised Belgian youngsters fleeing to Syria. Since 2013, his repeated calls for a national debate on the issue have been ignored by mainstream media and government officials.
With between 300 and 400 Belgians fighting in Syria, Belgium is Europe's leading supplier of  'foreign fighters', many of them joining the al-Qaida linked group Jabhat al-Nusra, and more recently ISIS (also known as Daech). The denial of the existence of religious radicalization has led to a neglect that has horrifying consequences at present.
In his latest work Collon highlights the government's passivity, even a disregard of the drama of young Belgians leaving for Syria. In 2013, Belgian Foreign Affairs Minister Didier Reynders affirmed: "If these people have joined the Free Syrian Army for an ideal that we support, we'll maybe erect a monument in their honor in the coming years."
The arbitrary line drawn by western countries between legitimate rebels and terrorists active in Syria has been discussed here. One may observe that, as long as radicalization was consistent with the country's foreign policy objectives, it didn't seem to constitute a problem. Blind policy.
Recruiting despair
Recruitment of fighters in Europe takes place via extremely well-structured, powerful organisations. Fanatics and unworthy preachers target young people in the streets, in the mosques, at the gym, via the Playstation networks. Many of those targeted are jobless, have no academic qualifications and come mostly from deprived neighbourhoods.
Some of them are very young and still under compulsory school age. Many Belgian families who lost their children on the Syrian battlefield were not aware of what was going on until their children disappeared or were found dead.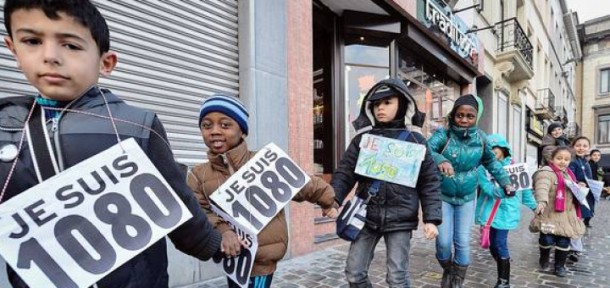 It's not just about Brussels. The fanatical religious group Sharia4Belgium was set up in Antwerp in 2010 and operated legally in the country until it was dissolved in 2012 for incitement to hatred. In 2015, it was designated as a terrorist group. Over the last years, it continued to function clandestinely as a major recruiter of potential terrorists. According to the investigators, up to 10% of Belgians who left for Syria were gravitating around the group.
Western foreign policy causes terrorism
For decades, terrorism has been nourished by NATO wars and growing global injustice. Every war acted as a multiplier for radicalization, fueling hatred and laying the groundwork for future terrorism. International terrorism financing routes are clearer than ever, as the political and economic relations between the West and countries like Saudi Arabia. Terrorism is now affecting western countries. Our governments are fully responsible for this downward spiral.
How is Belgium reacting to the attacks ? The securitarian mantra is already on. The government believes that putting more soldiers on the streets will achieve something in terms of fighting against the terror threat. As in France, repression of peaceful demonstrations is becoming the rule.
The problem is much more complex and cannot be solved with an iron fist. On 27 March, five days after the attacks, many young Muslims in Molenbeek and elsewhere were sent messages asking them to "make the right decision" and "fight the westeners". Maybe it's time we reconsider our foreign policy alliances. We have become used to wars loin de chez nous, will we get used to terrorism fait maison as well?
Connect with us on social media via Twitter, Facebook and Instagram.Your opinion matters!