Capturing the true essence of being at the beach is a difficult task to take on but Madrid is filled with an abundance of locations that are sure to make you forget that you are in a bustling city.
The amount of tourists visiting Spain has increased over the recent years. In 2016, over 75 million people visited Spain making it the third most visited country after France and the United States. Major tourist attractions of Spain include stunning architecture, a variety of museums and of course the beautiful beaches. Though the nearest ocean water beach is several hours away, Madrid is the home to many places that will make you feel like you are actually relaxing on a beach. I spoke to a local named Jorge while exploring Madrid who assured me that "there are plenty of places in the city that will remind you of the beach".
One of the most iconic aspects of the beach is the warm sand. If you are missing the sensation of sand between your toes, Ojalá is the place for you. Ojalá is a restaurant and bar located in the neighborhood of Malasaña, here you can order food and drinks with the choice of dining upstairs or heading downstairs to experience a sandy oasis. Ojalá captures beachy vibes perfectly with seats fixated closely to the ground creating an intimate environment for guests. Order a mojito, and submerge your feet into the sand while sitting back                                                                                                                  and enjoying the company around you.
Craving seafood? From lobster to oysters, Marisqueria Ribeira do Mino has a large variety of fresh mariscos that any seafood lover would indulge in. Between the ocean blue walls strung with nets and shells there is a relaxing atmosphere and extremely friendly staff excited to satisfy all your seafood needs. Known for its large seafood platters and Galician cuisine, Ribeira do Mino is the place to go to satisfy your seafood cravings.
Madrid is full of aquatic options to suit people of all demographics. Starting with Madrid Rio, this is the place to go if you want to soak up some sun. Developed with a mission to simulate the feeling of being at the beach, The Madrid Rio is a great family-friendly location with playground facilities, fishing, pools, hammocks and more. Whether you enjoy being active at the beach or prefer relaxing, Madrid Rio has something to offer for everyone.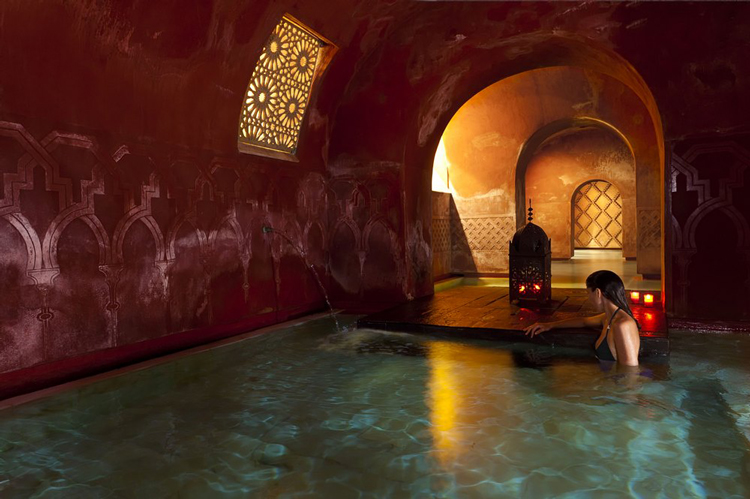 If the beach is a destination you visit for the water and relaxation, Madrid has a beautiful Andulsian Arab bath facility – Hammam Al Andalus Madrid. Containing three gorgeously turquoise pools with temperatures varying from cold, warm or hot, this is the perfect place to go if you want to take a break from walking the streets of Madrid. In addition to the baths, they offer massages and other rituals that are sure to help you relax. Experiences typically last 90 minutes and prices start from 33 Euro for access to the baths. Hammam Al Andalus is a favorite amongst both tourists and locals that is an experience you just can't miss.
For the younger crowd, Madrid offers several options for water amusement parks. A popular summer stop, Aquopolis is full of attractions for people of all ages. This park is packed with fun water slides, a wave pool, and water rides that will cool you down under the hot summer sun.
The final aspect of the beach that catches everyone's eye is the sunset. La Terraza de Óscar is a rooftop terrace equipped with a pool and lounge chairs, a perfect place to view the sunset over the city of Madrid. Locals suggest to head here around 7 or 8, order a drink and relax as the colors of the sky fade from day to night. This is highly rated terrace is located on top of the Room Mate Oscar Hotel in the beautiful neighborhood of Malasaña. Another great option that is well known for the beautiful view is the Azotea del Círculo de Bellas Artes. This rooftop bar and restaurant provides a gorgeous view of the city and is the perfect location to watch the city lights flicker on. As the sun sets here, you can sit on a grassy area and see a panoramic view of Madrid while sipping a refreshing mojito. A group of tourists from the United States that were visiting the roof top bar explained that despite the lengthy proximity from the ocean, "Madrid's sunsets look like they are painted," and "roof top experiences are not easy to find back home".
Madrid is rich with treasures that are sure to make you feel like you are at the beach. The city offers everything to complete your ideal beach experience hitting all aspects including food, sand, sunset, and of course the water. Sure to please people of all ages, there is something for everyone in the family to enjoy. Madrid is the perfect place to visit in Spain, not only because of the active nature of the city life but also because it encapsulates the relaxing aspect of traveling to beaches in thanks to unique locations that can be found scattered all throughout the city.
Ojalá; Calle de San Andrés, 1, 28004 Madrid; 915 23 27 47.
Ribeira do Miño; Calle de Sta Brigida, 1, 28004 Madrid; 915 21 98 54.
Madrid Río; Puente de Toledo, 28019 Madrid; 610 01 36 05.
Hammam Al Andalus Madrid; Calle Atocha, 14, 28012 Madrid; 914 29 90 20.
Aquopolis Villanueva de la Cañada; Avenida de la Dehesa, 28691 Villanueva de la Cañada, Madrid; 902 34 50 06.
La Terraza de Óscar; Plaza de Pedro Zerolo, 12, 28004 Madrid; 917 01 11 73.
Azotea del Círculo de Bellas Artes; Calle de Alcalá, 42, 28014 Madrid; 915 30 17 61.