[translations idioma="ES" url="https://archives.rgnn.org/2015/05/08/conoce-las-caras-de-rgnn-elisa-liu/"]
Get to know "The Faces of RGNN" in this Special Series about ROOSTERGNN journalists, contributors and students who have completed internships at RGNN.
What made you choose ROOSTERGNN for your internship?
I heard about ROOSTERGNN and as I liked their premise on freedom of expression, I applied.
What did you like most about your internship with ROOSTERGNN?
The variety of jobs that I had, which allowed me to learn a little bit of everything; but above all the positive work environment and my colleagues.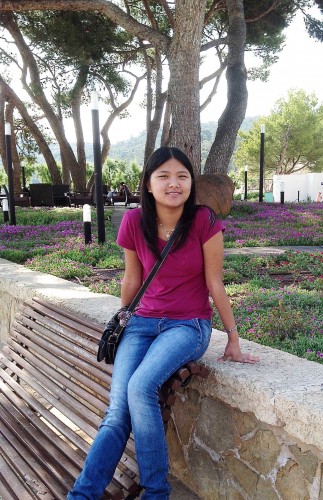 As a student studying Business Administration, what did you learn at ROOSTERGNN during your internship period?
I was able to get an insider's view on how a news agency functions: daily meetings, teamwork, responsibilities, etc. And as I already mentioned,  the distinct duties I performed allowed me to get exposed to a plethora of different tasks.
What is your favorite TV series?
It's hard to choose because it depends on the type of genre. If I had to pick a comedy, I would say Modern Family; if I had to choose science fiction, Orphan Black; fantasy Game of Thrones; thriller, Criminal Minds; and one a little bit more realistic, Grey's Anatomy– although I watch the last one because I've been watching it for many years now.
What is your favorite food?
I don't have favorite foods. I like Spanish food as much as Chinese food and all varieties of entrées. There are too many types of food to choose from- I can´t decide!
What is your ideal song for starting off the day?
Definitely not the sound of my alarm clock haha! It depends on the day, sometimes I listen to asian songs and other times more mainstream ones. I change depending on the time period. In my opinion, happy and motivating songs are the best to start off the day.
What would the trip of your dreams be like?
I would love to travel all around the world and get to know all of the different cultures and landscapes (and travel with good company!).
Do you have any piece of advice for students like you that want to enter into the world of communication?
Everyone in the world starts off inexperienced and gains experience and confidence day by day. My best advice would be to take things calmly. When you're young and have your whole life ahead of you, you don't need to rush things.  It's important to be motivated and be satisfied with what you're doing – don't be afraid to express yourself. In communication, everything is transmitted via message, which means you have to be sure of yourself if you don't want to create misunderstandings.
FOLLOW
TWITTER: @Eliulin173
Read her articles on RGNN: Elisa Liu
Keep reading "The Faces of RGNN" in this Special Series here.