Hydraulic fracturing, or fracking, is a controversial technique to release gas and oil from shale rocks. Millions of liters of pressurized, chemically treated water are pumped into shale formations or coal beds. The fluid, injected deep into the ground, creates or widens cracks in the rocks, leaving methane gas free to escape from the underground.
Quite an ordinary thing in US, where companies use it extensively since the '50s, combined with later technological developments. This unconventional drilling technique has helped reducing US dependency from foreign energy sources and transformed the country into a leading natural gas producer at the price of numerous environmental, safety and health hazards. There exists abundant scientific relevance linking fracking to contamination of ground and surface water, methane emissions, air pollution, radioactivity and seismicity. Environmental concerns have began to rise in the '80s, and the question is still debated at the national and federal levels.
Fancy a pizza? Get caught in a fracking explosion
February 11, 2014: a huge explosion takes place in a Chevron fracking site in Bobtown, Pennsylvania, causing the death of a worker. The fire has been burning for five days, during which the population is exposed to various air pollutants. The fracking techniques in fact, involve the use of up to 600 chemicals, including known carcinogens and toxins. The company, by way of apology, sends residents a letter accompanied by a coupon to buy a pizza and a bottle of soda.
Lobbying for fracking in Europe
In Europe, where fracking is a quite recent issue, oil and gas corporations are increasingly lobbying upon governments and EU institutions to obtain exploration permits, in the absence of a mandatory regulatory framework at the EU level. The effect is the slowing down of the necessary transition from an economy dependent on fossil fuels to a sustainable, alternative green economy.
In July 2011 France  became the first country in the world to ban fracking, and 16 other EU countries have followed suit.Spain is among the 10 EU countries that allow the concessions of exploration permits. In September 2015, more than 200 civil society groups have joined StopFracking2015 initative to stop the advance of hydraulic fracturing all over the country and focus on the development of alternative energy sources.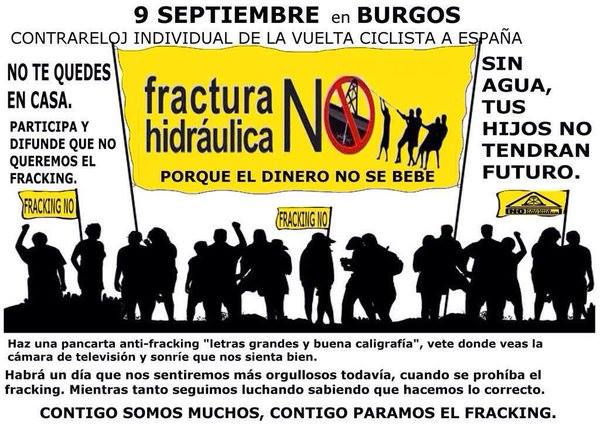 In total, 70 permits for exploration have been granted across Spain, and a further 62 are awaiting authorisation. The most affected regions are the Basque Country, Castilla y Leon, Navarra and Cantabria. Over the last two years, four autonomous communities adopted bans on fracking. The central government intervened by introducing changes in the regulating authority, which made possible for the Constitutional Court to cancel the ban in in Cantabria and La Rioja and provisionally suspend those in Navarra and Catalonia.
In late 2014 Andalucía opted for a moratorium of two years. As for the Basque Country, explorations remain in place pending future discussions in the regional parliament, as a result of a popular legislative initiative that collected more than 100,000 signatures. Meanwhile BNK Espana, a subsidiary of Canada's BNK Petroleum, has applied for permits to drill 12 exploratory wells and is awaiting the environmental impact assessment.
The government pro-fracking stance
The Industry Minister José Manuel Soria, who is openly pro-fracking, maintains a policy of opposition to regional governments and municipalities that rise up against the use of this technique in their territories. Some 400 municipalities have adopted an anti-fracking stance. Most of them are located in the areas where exploration permits have already been issued. Explorations permits in Basque Country, Castilla y Leon, Navarra and Cantabria have been extended by the Industry Ministry until 2017. This decision demonstrates the institutional intention to pursue this path, despite all the information and evidence widely supporting environmental concerns.
Refining lobbying techniques
Sector companies are exerting increasingly lobbying pressure. In January 2014 a report prepared by the Geological and Mining Institute (IGME) was returned to the editors so that they could minimise some critical points of the analysis and facilitate the implementation of fracking in the country.
Although the government leaves open the possibility of granting permits for exploration drilling, local authorities still have the power to determine if companies fulfil the necessary administrative procedure, including the environmental impact assessment. And with popular opposition growing, companies are obliged to refine their lobbying techniques. Promises of significant revenue to municipalities and autonomous communities hosting wells in their territory are put forward, combined with corporate advertising campaigns proclaiming the compatibility of the oil and gas production with renewable energy sources. The Government itself launched the proposal to tax the extraction of gas in exploited sites to fund local and regional entities and owners.
Don't Frack With Us
In May 2014, 20 political parties agreed to abandon any draft project on fracking and to legislate to ban hydraulic fracturing technique nationwide, including Podemos and the Spanish Socialist Workers Party. During the StopFracking2015 events, the platform urged the signatories to embed the fracking ban in their respective programs for the forthcoming general elections in December 2015. However, the country's largest traditional parties are not in the list.
Beyond Spain

There are no EU-wide legally binding regulations for gas extraction. The Commission failed to adopt a mandatory legal framework and opted instead for new 'minimum principles' for fracking projects, published as part of its 2030 climate and energy package. States are asked to follow a number of non–binding recommendations covering a range of protective measures against water contamination and other hazardous environmental impacts. This proposition is consistent with the free trade and investment deals with the US and Canada, that are likely to foster the development of fracking in Europe.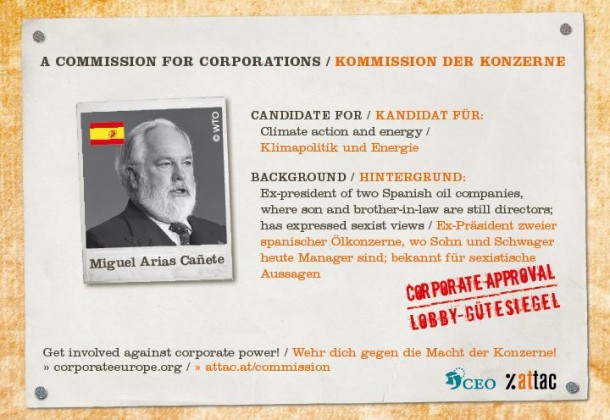 The EC game: Regulating and Advising for Big Dirty Industry
Despite strong opposition for his well-known ties with the Spanish petroleum companies Petrolifera Dùcar and Petrologis Canaris, Miguel Arias Cañete,  a Spanish Conservative politician was appointed last year as Climate and Energy Commissioner. He is now in the position to handle controversial environmental issues such as fracking in Europe.
And who advises the Commissioner? An industry-dominated Expert Group on Fracking, whose composition was made subject of complaint to the Ombudsman, who opened an investigation in September. The EC has time until 30th November to respond. By the way, it is the same day UN climate talks are set to begin in Paris. I don't frack you and you don't frack me, ok?