Because…
…it is not touristy yet.
so you can experience local vibe without crowds of tourists.
…it can only positively surprise you.
Have you ever visited a country or a city that was supposed to blow your mind with great architecture, culture, history, sights, etc. and it did not happen? Your expatiations were probably too high so you left indifferent or even disappointed. When I decided to visit Albania I wasn't expecting much and everyone around me were wondering why on earth would I go there? Because usually things are better than you thought or were told. In Albania that is definitely the case.
…it is beautiful.
There are some magnificent beaches, especially on the south. If you go there in September, there will be no crowd on the beach and you can really relax and enjoy your vacations.
Besides beaches you can also enjoy mountains, rivers, lakes (especially Ohrid lake). Albania has very diverse nature.
…people are very friendly.
Even if they do not understand you they will try to make you feel comfortable and help you out. I was staying in Durres for a week and since most people did not understand and speak English I used a lot of body language. When buying on the market just hand them some coins and they will do all the calculations. I do not think I was ever played. But when I came to Tirana I had to start speaking again.
…it has great history you probably do not know about.
I did not know anything about Albania before I went there. I do not remember ever learning about their history, culture, geography or anything else about this country in school, yet it is so very interesting.
To learn more about their history you should visit National History Museum in Tirana or go on a free Tirana walking tour. Our guide was really amazing. He not only told us everything about all the sights, but also shared some stories from his childhood in communist times.
…it has many UNESCO sites.
The most known UNESCO site in Albania is probably old district of Berat called Mangalem. Berat Castle dating back to 13th century is still inhabited.
Another UNESCO World Heritage sites are also Gjirokaster in southern Albania with  series of outstanding two-story houses which were developed in the 17th century and Buthrotum, archeological site in Vlore.
On the tentative list of UNESCO sites are also Durrës Amphitheatre, Royal Tombs of Selca and Natural and Cultural Heritage of the Ohrid Region.
…it is very cheap to be there.
Eating in restaurant can be expensive but not in Albania. Here you can eat out for a very low prices, that does not affect quality of the food. Staying in hotels or hostels, public transport, souvenir shopping, grocery shopping, entrance fees you can really enjoy yourself without emptying your wallet.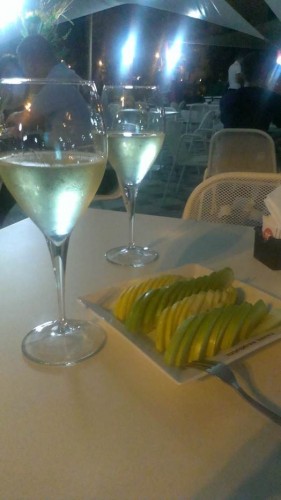 Great wine that comes with apple and pear slices for just 3,5 EUR. Cheap right?
…sometimes you need a haircut in the middle of the night
and you can actually get it in Albania.
…their food is delicious.
Albanian cuisine is Mediterranean influenced by Turkish and Italian. Try their meatballs, baklava, byrek, dollma or sarma. They also have great wines – try wines by Cobo Winery. They use a lot of vegetables and Mediterranean herbs.
…sometimes you just want to go somewhere where none of your friends been.