Too Soon to Tell- 2015, 2016, and 2017
All three drafts have contained star power.  Karl-Anthony Towns and Kristaps Porzingis are already stars, with both being named to this year's All-Star game.  Devin Booker, Ben Simmons, and Donovan Mitchell are creating waves throughout the league, while Brandon Ingram, Jamal Murray, Domantas Sabonis, Jayson Tatum, and Lauri Markkanen have all shown serious potential early in their NBA careers.  However, we have yet to see whether they will reach their potential, so the jury is still out on whether or not these draft classes can break into this discussion.  Consistency will make or break these classes.
Number 10— 2013
Even with the first overall pick, Anthony Bennett, being a complete bust, the rest of this class wasn't.  Giannis Antetokounmpo is the biggest (and hardest to pronounce) name in this draft, and has become a powerful machine the Bucks are lucky to have.  He has become a household name, has entered into MVP talks this year.  C.J. McCollum has thrived in Portland alongside Damian Lillard, averaging nearly 22 points per game in his last three seasons.  Both Stephen Adams and Rudy Gobert have grown into defensive powerhouses and experts in the pick-and-roll.  Victor Oladipo has thrived in Indiana this season after being underwhelming in Orlando and Oklahoma City, and point guard Dennis Schroder is just starting to scrape his potential.  This draft also provided many solid role players— Otto Porter, Kentavious Caldwell-Pope, Tim Hardaway Jr., Andre Roberson, Allen Crabbe and Kelly Olynyk.  This class is still young, so we may see them develop even more.
Best Pick: Giannis Antetokounmpo (15th overall pick)
Worst Pick: Anthony Bennett (1st overall pick)
Number 9— 2005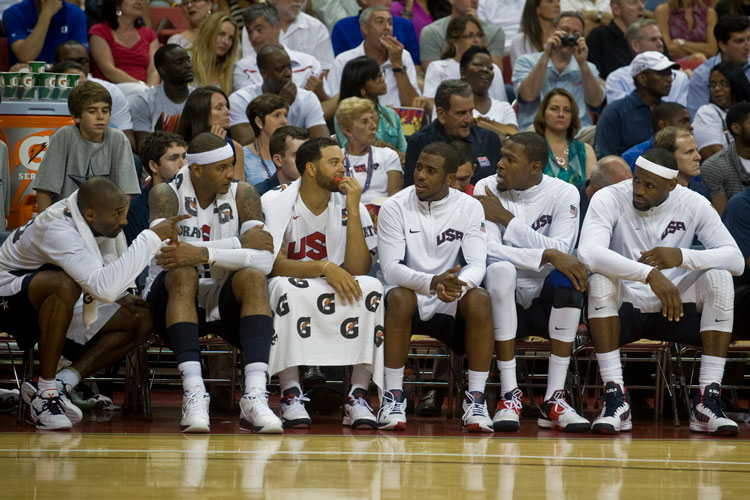 Point guards Chris Paul and Deron Williams headlined this class.  Williams, who was the fourth pick in the draft, and Paul, the fifth pick, battled it out for years over who was the league's foremost floor general.  Williams is now sitting on his couch and watching Paul lead the Rockets in their fight for the number one seed in the Western Conference.  Andrew Bogut was the number one pick and has contributed on every team he has been on.  His defensive prowess has helped him be named to both All-NBA and All-Defensive teams.  Marvin Williams, Raymond Felton, Channing Frye, Andrew Bynum, Danny Granger, and David Lee all have had solid NBA careers.  The 2005 draft may have had the best second round in recent memory, with C.J. Miles, Ersan Ilyasova, Monta Ellis, Lou Williams, and Marcin Gortat all falling outside of the first thirty picks.  The lack of star power in this draft, aside from Paul and a young Williams, holds this class back.
Best Pick: Chris Paul (4th overall pick)
Worst Pick: Fran Vázquez (11th overall pick)
Number 8— 2012
Anthony Davis is far and away this best player in this draft.  The former number one pick has averaged 23.0 points, 10.2 rebounds, and 2.3 blocks throughout his young career.  Former Rookie of the Year Damian Lillard is in contention for the title of best point guard in the league today.  Bradley Beal has developed into an all-around star instead of just a spot-up shooter, while Andre Drummond has become one of the most tenacious rebounders in the game.  Harrison Barnes and Terrence Ross are quality three-and-D players who can also be explosive off the dribble.  Jae Crowder and Khris Middleton, taken 34th and 39th, respectively, have both developed into key players for their squads, while Draymond Green, the 35th overall pick, has turned into a superstar for the powerhouse Warriors. Kent Bazemore and Jonathon Simmons both went undrafted, but have found their footing in the league and are impact players for their teams.   This class is lacking in many areas, but the strength alone of Davis, Lillard, and Drummond keeps it afloat.
Best Pick: Anthony Davis (1st overall pick)
Worst Pick: Thomas Robinson (5th overall pick)
Number 7— 2007
Number one pick Greg Oden, who is one of the biggest busts in NBA history. He had tremendous and was unstoppable in college, but only played in 105 games over his six-year NBA career.  However, he is not indicative of this class as a whole.  The Seattle SuperSonics took a scrawny small forward from the University of Texas named Kevin Durant second overall.  Atlanta, with the third pick, took a center fresh off a national championship in Al Horford.  Memphis took Mike Conley fourth, a point guard who lost to Horford in the championship game.  Aside from these three, this draft lacked star power, excluding the 9th and 46th picks, centers Joakim Noah and Marc Gasol.  What this draft didn't lack, however, was a plethora of quality role players— Jeff Green, Corey Brewer, Thaddeus Young, Al Thornton, Rodney Stuckey, Marco Belinelli, Jared Dudley, and Wilson Chandler, to name a few.
Best Pick: Kevin Durant (2nd overall pick)
Worst Pick: Greg Oden (1st overall pick)
Number 6— 2010
The 2010 draft was full of young talent.  Three freshmen from the University of Kentucky, John Wall, DeMarcus Cousins, and Eric Bledsoe, were taken first, fifth, and eighteenth overall.  Freshman big man Derrick Favors from Georgia Tech was drafted third.  Indiana native and Butler sophomore Gordon Hayward, who had taken his team to the NCAA Championship in Indianapolis game just months prior, was picked up by Utah Jazz at number nine, one pick before the Indiana Pacers, who had to settle for Fresno State sophomore Paul George.   Avery Bradley, the freshman from the University of Texas, was drafted by the Celtics with the nineteenth pick.  The freshman center out of Marshall, Hassan Whiteside, and Lance Stephenson, the guard from Cincinnati, slipped the second round.  As for the older talent, Evan Turner, Patrick Patterson, and Trevor Booker were all first-rounders.  Jeremy Lin, the senior from Harvard, went undrafted, but eventually found his footing in New York.  The 2010 draft was extremely hit-or-miss, but the amount of talent that came out of the good picks is enough to support this class.
Best Pick: DeMarcus Cousins (5th overall pick)
Worst Pick:  Ekpe Udoh (6th overall pick)
Number 5— 2008
2008 was a year for bigs and littles.  Chicago native Derrick Rose was taken first overall by his hometown Chicago Bulls, and completely revitalized the Windy City's basketball scene.  Triple-double threat and last year's MVP Russel Westbrook was taken fourth by the Seattle SuperSonics, and his college teammate, Kevin Love, was snatched up by Minnesota with the next pick.  Sharpshooter and terrific sixth man Eric Gordon was the seventh overall pick.  Brothers Brook and Robin Lopez were picked tenth and fifteenth, respectively.  Defensive staple Roy Hibbert was selected with the seventeenth pick, and prolific shotblocker Javale McGee was drafted with the following selection.  Stretch bigs Ryan Anderson and Serge Ibaka slipped into the late first round, along with prolific scoring point guard George Hill.  All-Stars DeAndre Jordan and Goran Dragic both slipped into the second round, but have proved that they are lottery talents.
Best Pick: Russell Westbrook (4th overall pick)
Worst Pick: Joe Alexander (8th overall pick) 
Number 4— 2001
Having two first-ballot Hall of Famers in a draft class can definitely boost its stock.  Pau Gasol, the third-overall pick, and Tony Parker, taken twenty-eighth, are two of the best players to ever play the game.  Pau Gasol has scored over 20,000 points during his career, and was instrumental in the Lakers' back-to-back championship titles in 2009 and 2010.  Tony Parker has accrued over 6,700 assists throughout the course of his career, and is currently twentieth on the all-time assist list.  But this class is still quality, even without the two greats.  Tyson Chandler, the defensive powerhouse, was taken with the second pick.  Jason Richardson, Shane Battier, and Joe Johnson were all drafted in the top ten.  Long-time journeymen Zach Randolph and Gerald Wallace were both late first-round picks.  Star guard Gilbert Arenas and stretch big Mehmet Okur were steals in the second round.  Even Brian Scalabrine, who is more famous for his carrot-orange hair than his playing ability, was taken in the 2001 draft.
Best Pick: Tony Parker (28th overall pick)
Worst Pick: Eddie Griffin (7th overall pick)
Number 3— 2009
This draft class took some time to mature.  Now that it has, it's hard to look back at the 2009 draft as anything but star-studded.  Blake Griffin was the first pick, but didn't make his rookie debut until the 2010 season.  When healthy, Griffin is nearly unstoppable.  James Harden was taken third overall by the Oklahoma City Thunder, but didn't become a superstar until he was traded to Houston.  Since then, his name has been brought up in nearly every MVP conversation.  Two-time MVP Stephen Curry was the third point guard taken in the 2009 draft, but has become one of the league's most lethal players, both from deep and off the dribble.  DeMar DeRozan was taken two picks after Curry, and has helped transform the Toronto Raptors back into a championship-caliber team.  Jrue Holliday, Jeff Teague, Darren Collison, Taj Gibson, and DeMarre Carroll were all late first-round picks, while lockdown defenders such as Patrick Beverley and Danny Green fell to the second round.  The only thing keeping this class form being an elite all-time draft is the sheer number of busts, including Hasheem Thabeet and Jonny Flynn, both top-six picks.
Best Pick: Stephen Curry (7th overall pick)
Worst Pick: Jonny Flynn (6th overall pick)
Number 2— 2011
The 2011 class had its fair share of star power.  Kyrie Irving was the first overall pick after only playing eight collegiate games at Duke, but has shown he was worthy of the pick, averaging 22 points and 5.5 assists per game for his career so far.  Kemba Walker was taken by Charlotte eight picks later, and has become the centerpiece of the franchise.  Klay Thompson fell to Golden State at the eleventh pick, and has thrived sharing a backcourt with Steph Curry.  He has become one of the league's most deadly spot-up shooters.  Jimmy Butler was taken with the last pick in the first round, and Isaiah Thomas was taken with the last pick in the second round.  The former has developed into one of the game's premiere two-way players, while the latter has overcome his 5'9" frame and defensive deficiencies to become one of the NBA's premiere scoring threats, capable of hitting shots from anywhere of the court.  Kenneth Faried was a superstar before the league shifted directions, leaving the undersized power-forward with no outside touch in the past.  Enes Kanter, Jonas Valanciunas, Tobias Smith, Chandler Parsons, and Nikola Mirotic have all broken out and become multi-tooled threats.  But the steal of this draft was the fifteenth overall pick, Kawhi Leonard.  The former Finals MVP and two-time Defensive Player of the Year is the has blossomed into the quietest superstar you will ever see.
Best Pick: Kawhi Leonard (15th overall pick)
Worst Pick: Jan Vesely (6th overall pick) 
Number 1— 2003
The 2003 draft class is one of the greatest in NBA history.  This class, while especially top-heavy, is riddled with championship rings, Olympic gold medals, and All-Star, All-NBA, and All-Defense selections.  LeBron James, Carmelo Anthony, Chris Bosh, and Dwayne Wade were all taken in the first five picks.  All-Stars Chris Kamen, David West, and Josh Howard were all taken in the first round, and Mo Williams and Kyle Korver were second round steals.  Twenty-seven players taken in this draft played for more than ten seasons in the NBA, and it could have been twenty-eight if T.J. Ford hadn't accrued neck and spine injuries.  But this class is carried by its star four.  LeBron is the greatest player of his generation, and one of the greatest of all time.  At age 33, he is still posting MVP-quality numbers.  Carmelo Anthony is third in scoring amongst active players, trailing only LeBron and Kevin Durant, tallying more than 25,000 career points.  Dwayne Wade led the Miami Heat to one NBA title on his own, and two more with the help of LeBron and Bosh.  Bosh, before heading to South Beach, was dominating on an underwhelming Raptors squad.  The '03 class is far and away the greatest draft class of the 21st century.
Best Pick: LeBron James (1st overall pick)
Worst Pick: Darko Milicic (2nd overall pick)