For many travellers volunteering abroad is a way to gain working experience, broaden their horizons beyond sights and get to know local community better. In Slovenia you can do that in many organizations, here are list just a few.
Voluntariat is Slovene branch of Service Civil International, a worldwide peace movement. Through various activities, such as international work camps, youth exchanges, training courses, long term volunteering, they promote social justice, sustainable development, international understanding and solidarity.
Currently they are looking for volunteers to work on promotion and development of two European Volunteer Projects – Volunteering in Humanitarian Aid and EU Aid Volunteers. Deadline is very close, so if you are searching for some new challenges, find more information here.
Humanitas is a voluntary, non-governmental and non-profit organisation that aims to raise awareness of global problems. Through workshops for schoolchildren and students, seminars for teachers and other events for interested public, they promote human rights, global education, interculturalism, globalization, development studies, active citizenship, etc.
Volunteers are very much appreciated. They offer positions for short-term, medium-term and long-term volunteers. Main activities for volunteers ate child sponsorship, fair trade, working in House of Worlds or other ongoing projects.
'Play with me' is more than just individual invitation for gathering. It is international festival for children and youngsters, especially those with special needs. Organised by The Special Education Centre Janez Levec Ljubljana and Association of Inclusive Culture gather schools, institutions, non-governmental organizations and individuals. Different activities on festival Play with me connect children and youngsters through fun, games, sport, music, dance, etc.
Volunteers can participate in various ways, as an animators, technical support, head or assistant to different creative and sports workshop, coordination of volunteers, etc. Your work is rewarded with amazing experience and fun when doing so, certificate of attendance, work outfit.
Sustainability in practice is the main vision of Park Istra. Their aim is to transfer their holistic model of social, environmental, economic and cultural sustainability around Slovenia and abroad.
Volunteers are invited to contribute to better world through participating in sustainable projects.
Developmental centre Pomelaj is located in rural area Prekmurje in North-East Slovenia. It is also employment centre for vulnerable target groups. Their main purpose is to revive all that is sliding into oblivion, while creating new, delicious and useful things. Creativity in traditional crafts and culinary is seen in their handmade products from corn husk and culinary specialities.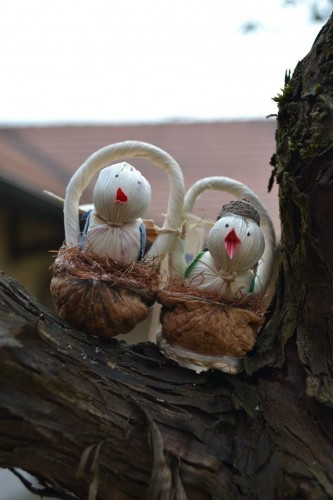 Volunteers can participate in developing new products, their promotion, working on fairs and in other ongoing projects of Cooperative.
Volunteers do not necessearily have the time; they just have the heart.
Elizabeth Andrew