This is no doubt that Beyonce is one of the feminist  by excellence. But would we consider Kim K as one? Let's see.
First of all, what is a feminist: The feminism is a politic, philosophic and social attitude, based on sex equality. The feminism has for goals:
The defence of interests of women in society,
The amelioration and extension of their rights
The end of oppression and discriminations that women are victimized daily
The emancipation
The thought of feminist seek in particular, the amelioration of women status in society having a tradition built on the disparity of the sexes.
Kim posted a selfie on Instagram for women's day, posing naked in her bathroom with only two big stripes covering her breast and down there. Not to forget that innocent caption:
"When you're like, I have nothing to wear LOL".
You could clearly see on Twitter a battle between the slut shaming and the feminist (plus Kim K groupies) finding that action normal and justifiable.
Reactions from celebrities like the tv presenter Piers Morgan did not take long to appear. He posted a tweet saying:
I know the old man's $50 million in debt Kim, but this is absurd. Want me to buy you some clothes?"
Yep, you read that right, that gentleman  just linked the fact that Kim was naked because of Kanye debt.
"I sincerely hope that you realise how much is important to show to young woman that you have to set goals in life and teach them we have more to offer than our bodies"
replied the young actress Chloe Moretz  to the picture (The same woman who half an hour later sent a tweet to promote a cream at 400 euros… Ironic right?).
Usually Kim does not reply to those kind of attacks but this time she did, throwing to Piers Morgan that she was
"too busy making 80 million dollars to send 53 million to my husband".
Then she welcomed "nicely" Chloe on Twitter:
"Let's all welcome Chloe G Moretz to twitter, since no one knows who she is. Your nylon cover is cute boo".
Cover where you see that, underneath that jacket Chloe was naked.
Then to make sure everyone gets the memo that she really does not give a big F about what anybody have to say, she posted a nude of herself with the hashtag: Liberated.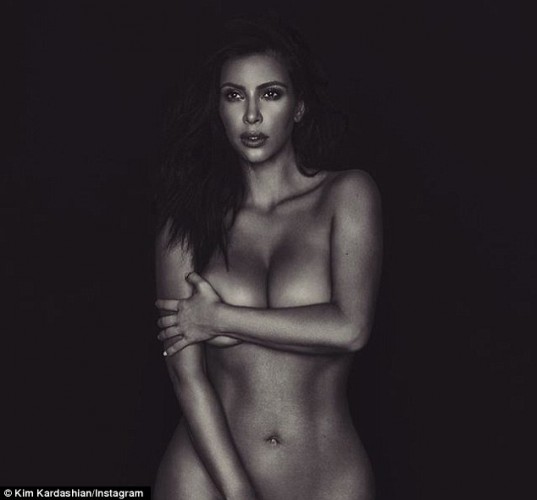 Most of the female celebrity bashing her for her nudity, when they pretty much all done the same thing, but do not seem to appreciate when Kim Kardarshian is doing it, claiming that she is sending a degrading message and that she is too vulgar.
Kim got total control of her body since the terrible accident of the release of her sex tape with one of her ex, the singer Ray-J. After this scandal, she surrounded herself with plastic surgeons, gym instructors, an army of hairdressers and make-up artists.
She endorses the card of ultra-femininity, put in on every social media and built an empire.
Even though her marital status and her two kids, Kim continues to show her sensuality, and to pose regularly naked, every time to break the Internet.
Every naked selfie, is never "too common" and secure her a good amount of money. Lots of women supported her like Kylie jenner, Christina Milian, Miley Cyrus or
Emily Ratajkowski:
"Love when a man comments on a woman's decision to post a nude photo. Her body, her carrer. Sexist bullshit"
Beyonce is a feminist by her words, and Kim K by her body, deal with it, especially when your husband approves seeing your body in magazines, why she should not encourage women to do the same, right?