"Dream. Believe. Achieve" is the motto that pushed Julie Sariñana, from the fashion blog Sincerely Jules, to become not only one of fashion's influencers but a business woman.
Born in Durango, Mexico and raised in sunny Los Angeles, California, Julie grew up with creativity all around her. Her two sisters designers for Barbie, her brother an artist, her mother a thrift store owner and her father a tailor. Mix all that creativity with living in one of the most inspirational cities, Los Angeles, it was inevitable that Julie would find her very own creative niche.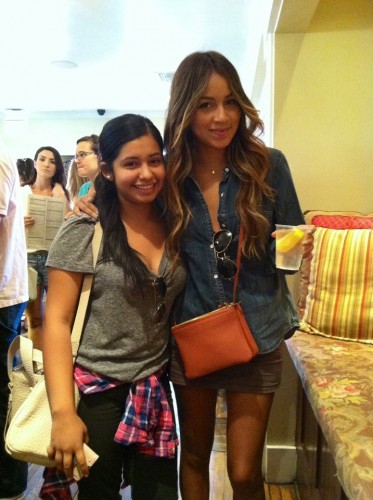 Julie began her fashion blog in 2009 as an outlet to express herself creatively, she said in a Q&A blog post. It's very important that she posts things that she is passionate about and truly loves. Being creative with her posts and photography makes it much more eye-catching.
Shop Sincerely Jules is an online store where she sells t-shirts, jeans, sweatshirts, jackets, and other pieces with creative sayings and designs such as "Dream. Believe. Achieve."
The online store has had so much success that many celebrities, such as Kendall Jenner and Ashley Tisdale, have been found wearing her famous "CÉLFIE" t-shirt.
She has inspired many women across the world, including myself, to dream big, believe in yourself, and achieve your goal.
I was lucky enough to run into Julie on a Sunday evening at a café in Los Angeles. I was standing in line to order my go-to vanilla latte when I noticed Julie from across the room.
My heart dropped! I knew I had to introduce myself and talk to her but I was very nervous. Finally I got the guts to go up to her and asked her, "Are you Sincerely, Jules?"
She was the sweetest person I had ever met and definitely what I expected her to be. We spoke for about ten minutes. I told her that she was my role model and has inspired me in so many ways: confidence, my style, career choice, and most importantly, dreaming bigger.
She encouraged me to go for my dreams and never give up. It was definitely a moment I will forever cherish. I have been following her motto and it has brought me to many wonderful opportunities.
"It's very nice to meet the people who follow your life through social media and talk to them on a one-on-one level and hear stories about their life and how I've inspired them, is I think the icing on the cake" she said in the Sincerely Jules Makeover at the Sebastian Hair Emergency Event video.
Thank you Jules for inspiring me. I'm hopeful that someone reading this will lead them to your blog and feel as inspired as I do.
Blog: www.sincerelyjules.com
Online shop: shopsincerelyjules.com