Photoshop in Real Life, Time Travel, Des Monstres, Coffee Universe, The Real Life Models, The Bully Project Mural and the Detroit series – some of the topics the talented Hungarian photographer Flora Borsi worked on during the past few years.
"She uses exquisite photo manipulation to create surreal images that are thematically focused on identity, relationships, emotions and dreams. With her conceptual ideas she evokes universal feelings, from lust and desire to despair and loss" – tells the description at her website. "Flora at once captures the complex strength and fragility of the human psyche. Her work often features the female body and she plays with hiding and revealing the eyes or face to leave only the feminine form, exploring questions of female representation and the relationship between body and self."
Her photos (or better to say photo manipulations) brought her to amazing places. She was featured in such media outlets as BBC Culture, The Observer, ELLE Magazine, The Guardian, The Huffington Post and Yahoo.
Since 2014 her images have been exhibited at several solo and group exhibitions in Detroit, Austria, Istanbul, London, Toronto and Columbia. Furthermore, one of her photos was chosen from millions of images and it has been shown as part of the Exposure Award's collection in the Louvre this summer.
"I might say five sentences about a photo, meanwhile another person can read twenty out of it. If I was about to write a summary in twenty sentences about my last two years, it would for sure not be as descriptive as if I show twenty photos."
In September this year, she announced on her official Facebook page that one of her photos will be hanging in the office of the well-known American crime television series, the Castle which premiered on ABC in 2009.
Still, for someone who has been working with Photoshop since she was a child, one of the biggest honours in a carrier is to contribute to the program in some way. In October 2014 Adobe Photoshop started with the image of Flora Borsi. "Millions of people are using the program all over the world to create graphical images, manipulate photos. Now while starting the software, for ten seconds they would see my photo and name on the screen" – she told last year. "When I was 11, I had a really slow computer, Photoshop was loading for at least two minutes, and I can still remember the photo it started with."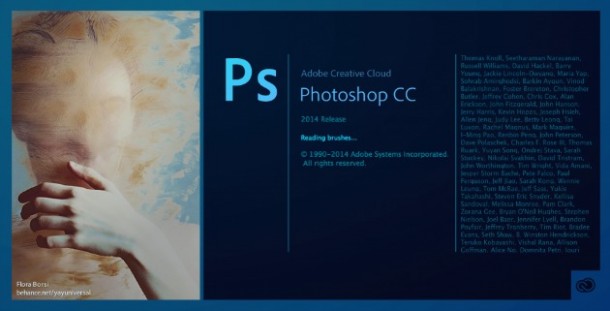 And how did her fascination for manipulation began? "My sister used to work as a web designer and once when I have been to her place, I started to play with Photoshop" – she shares her early memories. "Obviously, I didn't understand a lot from the program, as it was in English, but it was still very exciting. I received three images from my sister and during the whole summer I was working on the same Angelina Jolie and Britney Spears photos, instead of playing some games."
After being on the starting screen of Photoshop, the company had more surprises for her. Just recently, Adobe selected 25 of the most creative visual artists under the age of 25. I guess no one is surprised anymore: Flora Borsi is also among the chosen ones. In honour of Photoshop's 25th Anniversary, she created a surreal image of a woman using her ideas to float over NYC.
"The editor software is just a tool to complete my pictures. I want to make an image, which looks like a real, unedited photo" – she explains the background of her technique. "I would like to shock people or make them smile with some society critics. My goal is to inspire the viewer to think, to feel what I felt."
We have selected some of her series to give a closer picture about her work and style, and also included short texts in which she is commenting her own photos.
Time Travel
"If time travel did indeed become a reality, how would it affect our world as we currently experience it? My inspiration was a Charlie Chaplin Movie."
The Real Life Models
"Nowadays almost all the photographers use graphics software to complete the picture, whereas many painters used 'original versions' in the past. What if the abstract models were real people?"
Velavé
"I've tried to show an Artist's model who you see everyday on the streets. Defined by lines and strokes, every centimetre specifies the human being behind the paintings. They're immortal, as long as people could see them. They became abstract in the memories, and through these two layers of abstraction the Artist name will be more important than the muse's face."
The Detroit series
"The City of Detroit has gone through a major economic and demographic decline in recent decades. Not so long ago, Detroit was a rich, beautiful city, full of vibrant people. I have been there twice recently and I was saddened by the status of the abandoned buildings and factories I saw. I imagined how the city, its streets and buildings might have looked in past decades. I found pictures from the previous century and combined them with the photographs I took during my most recent visit to Detroit. What if these people from the past could see their beloved place now?"
Check out more of Flora Borsi's work on her website and her Facebook page.