Shooting mainly advertisement films and music videos for bands, Danila Kostil film director seems to have found his place in Barcelona, the city where he could start enjoying life more. We were talking about the beginnings, his inspirations, differences between the Eastern and Western European film industry and much more.
When did you start making films?
I was 20 years old, studying Russian at the university. In the meantime I started taking photos, using Photoshop, making videos for friends. There was a tender that I decided to apply to. The title of the film we made was Europa Underground, and it was in 2004 when Hungary joined the European Union. I was trying to react critically to the fact that we were not yet prepared for being part of the EU. The video won the price for the Best Social Message in Hungary, and it was also nominated for the Best European Spot in Berlin.
What was the next step that led you to be a professional film maker?
I applied to the University of Applied Art, and they accepted me for the first time, even though I was not good at all in drawing. I think I convinced them with my "abstract" pictures – which were actually straight lines all over the paper…
You are a director at the first place, but you also like to keep an eye on the other parts of the film making process.
Based on my university degree I am a video artist. We were studying editing, postproduction, lighting, and so on. I always used to prefer creating the moving picture that's why I decided to be a director. Still, I'm not a bad art director either and I can do postproduction as well.
Which is your early work that you are still proud of?
We finished Kulocity, a short film of a Hungarian street artist in 2010. We created an experimental film based on the popular comic book designed by the artist, Attila Stark. It contains animation, stop motion and also live action parts. It is a raw, honest and humorous tale about Jani Kula's search for his path in life and in the busy Kulo City.
What are you working on right now?
It is difficult to talk about my own work, as in the applied part of the films I gave up my name, and now already for four years we are working on commercial and non-commercial films with other filmmakers under the name Kinopravda.
Is it really about giving up or just the beginning of something new?
Seeing the success of many young and talented directors in Western Europe I have felt that we, Eastern Europeans have serious handicaps. For us, it is much more difficult to find jobs abroad. We have to face some unbreakable walls. The "I'm from Budapest" brand is not working in the commercial film industry. We are just put into a box: Budapest, Hungary, Eastern Europe. That is one of the main reasons why I decided to leave. Interestingly enough, as soon as I turned into "based in Barcelona" I received much more attention. We still didn't break down all the barriers at the Western European market, but we are working for India, Egypt, Turkey and also have clients in England and France.
How are you connected to the filmmakers in Kinopravda?
We have similar style and we are friends at the same time. We mostly make conceptual films. Telling a story is not our strength, we are moving more towards video art. It is also something personal. I consider myself a visual type, I'm usually thinking in images. I like to get closer to a topic from the side of the art, rather than the story.
What was your most recent work with Kinopravda?
We have just finished the music video for Yvein Monq's Twun, based on Viktor Horváth's idea. It is the perfect demonstration of the perilous absurdity that is wearing high heel shoes. In this case, some extraordinary ones" – this is how we described the video. We were shooting in Barcelona and Budapest as well, and it was quite a big hit through the internet worldwide.
Now, after we have done a non-commercial project, we have to do more commercial ones. Right now we are pitching for several advertisements, such as Turkish Airlines, a telecommunication company in Lebanon and the French Weight Watchers.
What are the features that you brought from Eastern Europe?
Kinopravda is also a Russian name, and we obviously don't want to forget about our past. We keep important parts of our background, references and aesthetics. I'm originally from Uzbekistan, we are speaking Russian at home with my family. I just moved to Hungary when I was twelve. Still, usually I say I'm from Hungary, it's easier…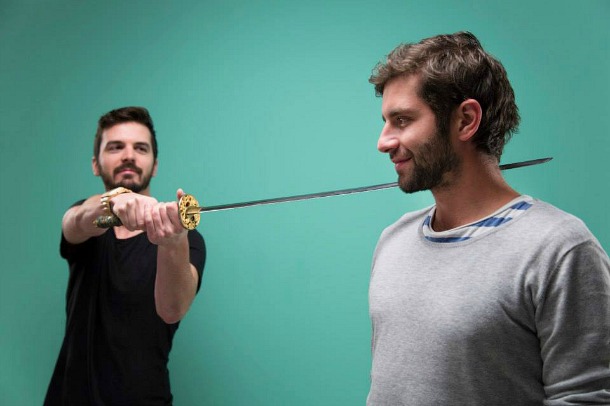 How did Barcelona change you and your films?
I started enjoying life more since I have moved here. At Budapest I was a workaholic, I made two-three commercial spots per month. It also helped my career, but at the same time it destroyed some parts of me. In Barcelona, I started to read more and also sometimes to do nothing, which somehow has a good effect on inspiration and work. Now I'm concentrating on one thing at a time, everything is more clear. Barcelona also changed my visual thinking: I am more sensitive and my expectations are higher.
What do you think about the Hungarian film industry nowadays?
There is certainly a positive change going on now in Hungary. There are several new films, they spend more money on the film industry, the audience can choose from a wider range of movies. I will make a Hungarian film, hopefully in the near future – I owe them one.