Christmas time is the most magical time of the year. Smell of cinnamon, ginger and cloves, mulled wine on every corner, stalls filled with cute little presents for our loved ones. Christmas lights showing us the way in city centres, Christmas tree we decorate with our family and so many activities that bring joy in our lives.
Christmas fairs are very known all over Europe, especially in Germany and Austria. In Slovenia you will find the biggest festive fair in Ljubljana, capital city. It is located in the centre of the city, so that you cannot miss it. Christmas tree is 20 metres high and it is decorated with 10 km of Christmas lights. There are many stalls with mulled wine, hot chocolate, honey liquor, tea and also food. On other stalls you can find handmade, local, beautiful products that can make amazing gifts for your friends.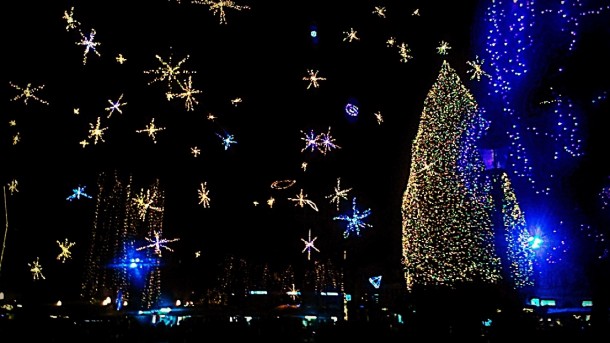 If you are still a big child and want to believe in Santa or other fairy creatures you should head to the square in front of the Town Hall. Every day at 5pm there is the Good Fairy that will be fulfilling your wishes. On weekend you can stop by the Pavillion at Kongresni Trg Square, where the Magical Forest will host puppet shows, story hours and improvisational theatre performances.
On Christmas Eve at 5pm (in front of the Town Hall) you can enjoy performances by top Slovenian musicians for free.
In Maribor (the second largest city in Slovenia) you will find festive fairs in the old town core. Artists of all kinds will present their selection of gifts for your dearest. From 22nd to 24th December you should head to Grajski Trg Square and Trg Svobode Square for Christmas and New Years' Fair. On Grajski Trg Square you will find contemporary crafts, art and design fair.
On 23rd December you can take free guided tour 500 magical years of Maribor's Town hall Rotovž of the city in front of the Old Vine House at 5pm.
Something for young in the heart is definitely the Fairy City, which is located at Vetrinjski Dvor Mansion in the old city and on some other streets and squares. Here you can attend concerts, street theatre shows, children's events and so much more.
A trip to Fairy-tale Celje is promising to be very special. With all that they are offering it sure must be right. Fairy-tale land with fairies and Santa will for sure bring back memories from childhood, when all seemed possible. Free concerts are also happening in Celje during December, so why not attend one and learn more about our music and culture?
Cannot decide which champagne you want to drink on New Year's Eve? Go to Champagne Festival on Savinova Street from 21st to 24th December and try which one is your favourite. This way you will enter New Year with sparkles.
I hope you will all find something for yourself to fulfill your heart with joy and then share it among others. Merry Christmas to all of you!