This year, Russians will have an incredible opportunity: seeing their leader, every day, for the next twelve months. In fact, a calendar called "A year with Putin" is available in many shops of the country. It seems that is selling like crazy.
Each month has a photo and a quote that allows to know the multifaceted Russian leader.
We can see him practicing judo, fishing or in the middle of the forest, staring at us. Moreover the calendar reveals an unknown part of Putin, the tender one. He is portrayed with dogs or smelling a flower.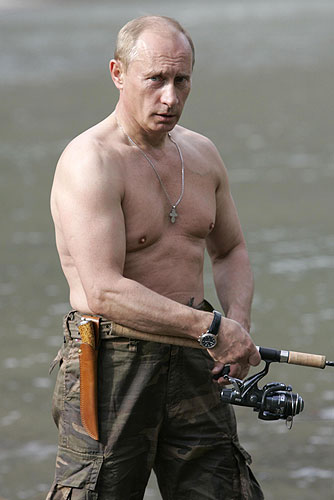 Furthermore, the satiric version "The world is not enough" has been created by a popular Russian political satirist.
Endless choice
The calendar is only one of the thousands products of the Putin merchandising. Actually, for a good price, you can find: mugs, t-shirts, flags, sweaters and phone covers with the Russian leader. Lots of objects contain references to the war in Crimea.
You are so fanatic about the Russian President that you are willing to pay whatever price in order to have a Putin object? Don't worry, even luxury items are for sale.
The last one that caught the attention of the European press, is a perfume that in the creator's words "smells like Putin". It goes under the humble name of "Leaders number one". The perfume is limited edition and the cost is considered quite high in Russia: 6500 rubles (around 65 Euros). It is packaged in a polished black box with the profile of Vladimir Putin on it.
A leader appreciated by his people
All this items are mostly bought by tourists but also by Russians themselves.
Vladimir Putin enjoys widespread appreciation in his country. A survey carried out by the Levada Center shows that his popularity is increasing. In particular, the outbreak of the war in Crimea has represented a turning point. Putin's approval has started to grow exponentially from the military intervention against Ukraine started in 2014.
Since He started his career as Prime Minister in 2000 Putin's aim has always been giving back Russia the importance and the prestige lost with the end of the Cold War.
His strategy is creating a collective memory and present himself as a strong figure, that Russian people must take as a model.
"I'm convinced that a person in my position must provide a positive example to people". He said in an interview released by the American broadcast network, CBS in September 2015.
Putinism
Putin has constructed a cult of his personality, an aura. The strategy behind Putinism is not only give him legitimacy but also gathering Russian people around him. He has invented a sort of mythology through gadgets, statues and photos who depicted him as a Muzhik (the Russian word for "real man"). Man want to be like him and women want a man like him, same old story.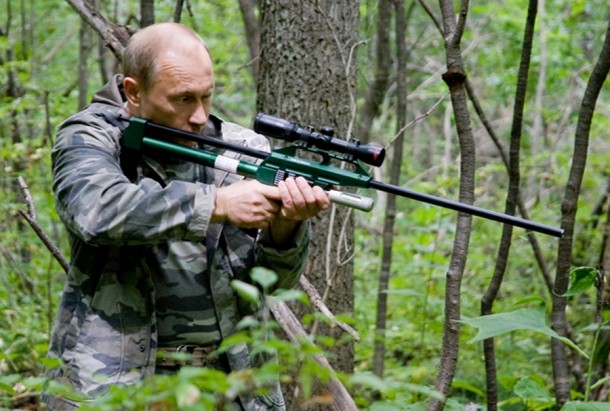 Most people thinks that his iron fist will give power and credibility to Russia. After the collapse of the Soviet Union "the worst geopolitical catastrophe of the 20th century" as far as Putin is concerned, Russian have lost all they models and the President is trying to give them a new one.
We are looking forward to see what the next strange Putin object will be.